I've enjoyed reading everyone's "Day in the Life" posts on
Growing Up Geeky
's link party. I personally don't have a day in the life post, but wanted to share what my day revolved around today.
See that itty bitty bandaid?
Yes, it was shots day. But Michael, for the first time in his 19 months of life, took it like a champ & didn't cry. The receptionist was even surprised as we came out of the doctor's room a minute later looking like nothing even happened.
I think the best part of him getting shots in the past was how clingy he would be afterwards. Not anymore. Today was filled, not with Michael begging me for hugs and cuddles, but of just the opposite.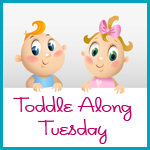 ~Kristina