Recently, I have caught myself more and more looking at pictures of Michael from the past year. And more often than not, I seem to tell myself, "Wow. He's a big boy now." That and "Wow. That's a really funny picture!"
I seem to have an abnormal amount of silly pictures of Michael. Things he's getting into. Things he's making. New "milestones" as I would call it. But a good amount of pictures I've taken have been him creating messes.
I can literally count on one hand how many toys we've purchased for Michael. Probably because I've learned that children find delight in the simple things. Like toilet paper rolls. Wrapping paper. Boxes.
Today's
Toddle Along Tuesday
question could not have been any more perfect- What non-toy things does your little one like to play with? Or maybe I should I rephrase that to- What non-toy things won't Michael play with?
Leaves at the park, instead of the jungle gym
Power Dome
Furniture
Personal Care Items
Shipping Supplies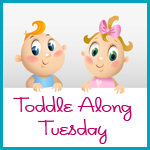 ~Kristina