One of the awesome benefits of blogging are the amazing people you meet via the Internet. An interesting way I've learned how to do so, is through swapping! I recently signed up for
Tutus and Tea Parties' Ornament Swap
& just yesterday, got an exciting e-mail about who my swap partner is.
As you've seen frequently around these parts, I also take part in a few link parties. This Friday's link party is called
Friday's Letters
via
Adventures of Newlyweds
. Of course, all letters are collectively from Michael & I.
Dear
Rafael/Daddy
- Thanking you again and again and again for your hard work at your job.
Dear
San Diego
- Are you ready for us?
Dear
East Coast
- Our prayers are with you.
Dear
West Coast
- Thank You.
Dear
Ashley
(Adventures of Newlyweds)- LUV your blog!
Dear
Halloween
- Thanks for the endless supply of candy now in our household.
Dear
Lakers
- Please don't end up like our Angels this year. Womp womp.
Dear
Mom/Grandma Pretty
- We're glad we'll be spending some qt this weekend.
Dear
Lola/Great Lola
- We can't believe you've been gone for almost a year.
Dear
Readers & Friends
- You make this blog what it is. Thanks for stopping by.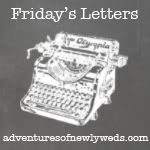 ~Kristina